#giant paddle st martin
#stand up paddle st martin
#sup to pinel st martin
#sup tours
Get It Together!
The ultimate group paddling, 6-8 paddlers can explore the wilds of nature, tour the coastline and islands with ease (Pinel, Green Caye, Tintamare island) or just get together for a fun ride.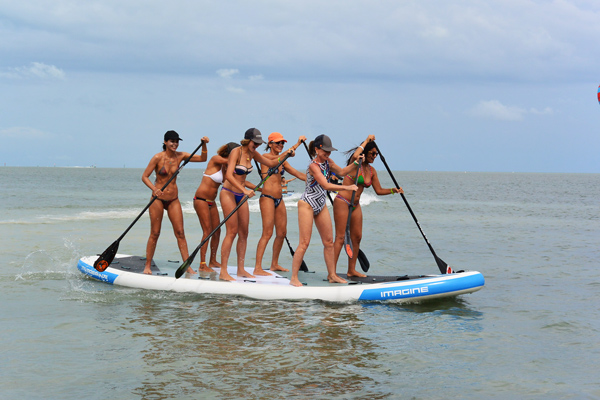 Perfect for a group, also , the center can organize you battle (with 2 giant paddles).
You can rent it from 1 hour to a full day or full week. (Imagine Invader LTE dimensions 17' x 58 '' x 8 '')
Perfect to go to Pinel island or Green cay island on your own !
See rates for Giant SUP rental (we deliver anywhere on the island, 30 € extra)
Giant paddle tours to Tintamare island
Private trip to Tintamare island: trip to Tintamare island for up to 6 people including a giant Sup, with instructor. Downwind from Tintamare to Pinel Island possible. No previous experience needed (motorboat assistance).
Departure 9 am from the center aboard a motorboat (or 2 pm for afternoom trip). After a 15 minutes crossing to Tintamare, a quick introduction to paddling, you will paddle alongside the coastline, discover the cliffs (sea birds nesting), see sea turtles. You will stop on the island, snorkel on the reef. You will then go to Pinel island (paddling downwinder for thoase who wish), and discover Pinel island. Included: 1 softdrink , water, snorkelling equipment , lifejacket and guide.
3 hours tour: Tintamare, Pinel - book now
1 day trip: Tintamare - Pinel - Creole rock book now
Giant Paddle tour to Pinel island
Private trip: Trip to Pinel island with our instructor - (up to 6 persons).
Group trip: If you are on your own, join a group. Our instructor will take you to Pinel island (30 minutes crossing). You will spend the rest of the day on Pinel (snorkeling gear provided), and we will pick you up anytime during the day. See rates....
If you want a 2 hours trip (including returning with the giant sup), our instructor will show you what Pinel has to offer: snorkeling, hiking around the island, sea turtle on the way. See rates for a 2 hours trip (up to 7 people). See rates....
Giant Paddle tour to Green Cay island
SUP to Green caye island with our guide. You will discover the view on St Barth, relax and snorkel on the reef.
SUP cruise (for up to 8 people)
2 days in St Barth': A 2 days private S.U.P cruise to St Barth aboard a 38 ft Catamaran. You will discover the marine park (Colombier) and ride in ST Jean, a wave spot.
Price for 2 days (up to 8 persons): 1422 euros ( 2 SUP included - 50 € each additional SUP)
7 days S.U.P cruise: Discover Anguilla's best beaches, Sandy island, Prickly pear, , Scrub island, St Barth and much more. A 7 days private cruise with huge downwinders.
Price fro 7 days (up to 8 people) : 4498 euros (2 sup included), 105 euros for each additional SUP.