Lagoon 38 ft Catamaran up to 11 persons
#lagoon 38 charter
#sailboat charter company
#sailing trip st martin
Catamaran Lagoon 38 ft available with skipper for 1/2 day up to one week to discover the area.
Included:
2 stand up paddle (1 windsup) -
2 washrooms
4 double berths
fridge
GPS
radio bluetooth
snorkelling equipment
fishing rod
WIFI (only on the windwardside of Anguilla and St Barth)
dinghy 15 hp for assistance
excursions
sheets and towels

The catamaran comply with the safety rules (safety equipment) is always controlled by a professionnal captain (Capitaine 200) to ensure you a safe experience.
11 persons can go aboard (on a day trip) and 8 on multiple days (4 double berths).
Trip to Tintamare, Pinel, Creole Rock
Day charter to Tintamare, Anguilla, St Barth, mini cruises , 2 days in St Barth', 7 days cruise...
Book now 1 day 4 hours. 3 hours Photo Gallery
Day trip To Anguilla Rendez-vous bay
Day trip to Scrub Island (Anguilla)
Day trip to Sandy Island (Anguilla)
Day Trip to Prickly Pear island
2 days in St Barth' aboard lagoon 38 ft
Book Now Photo gallery

Trip to Tintamare island / Creole Rock / Pinel island (private trip)
Sail to Tintamare island, swim with sea turtles, snorkel among colorful fishes, discover the island. Sail to Ceol rock (snorkel) and discover Pinel island (lunch in Pinel possible, extra).
Included: snorkeling equipment, 2 S.U.P, drinks (soft drinks and beers).
Creol rock
Combo Tintamare - Anguilla (Rendez vous bay)
Stop in Tintamare (snorkelling, sea turtles) - 11 am , departure to Anguilla Rendez- vous bay, stand up paddle, snorkeling
All trips includes free drinks, snorkelling equipment and 2 stand up paddles - Lunch possible (extra 10 € per person) - 15 € per person not included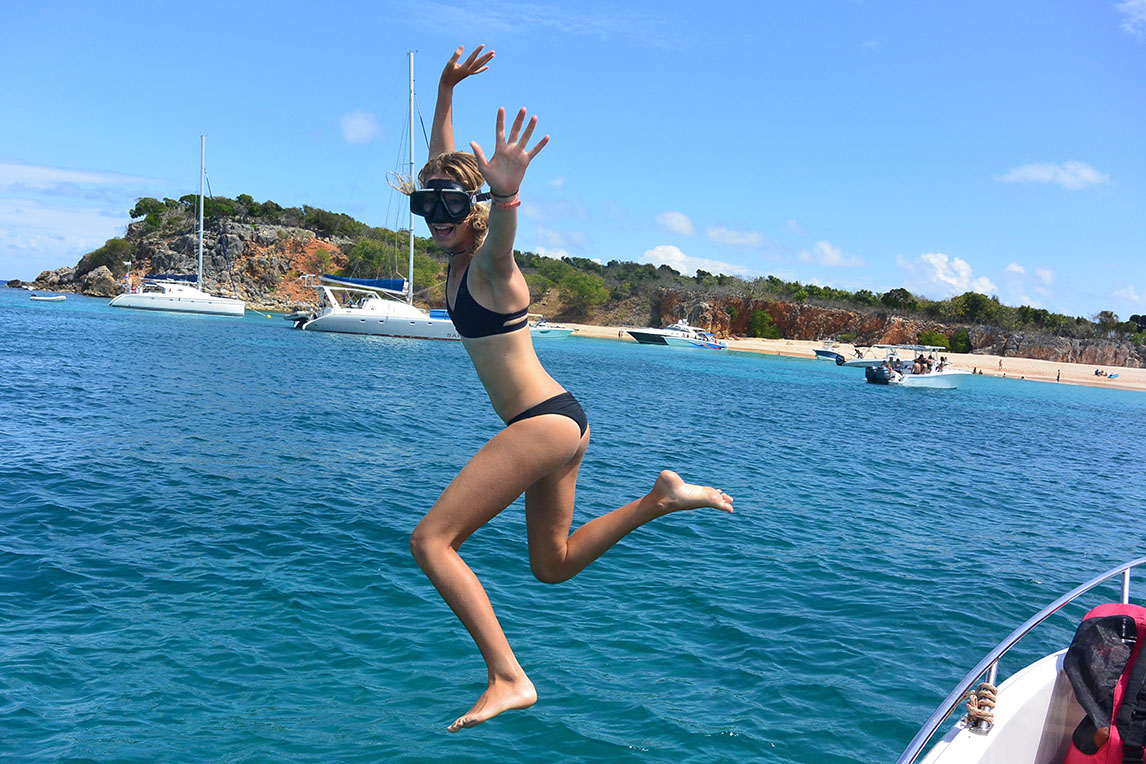 Trip to Scrub Island + Tintamare
Stop on Tintamare island (snorkeling, stand up paddle) , 11 am sailing to Scrub Island (1,5 hour sialing)
All trips includes free drinks, snacks, snorkelling equipment and 2 stand up paddles - Lunch possible (extra 10 € per person) - 15 € per person not included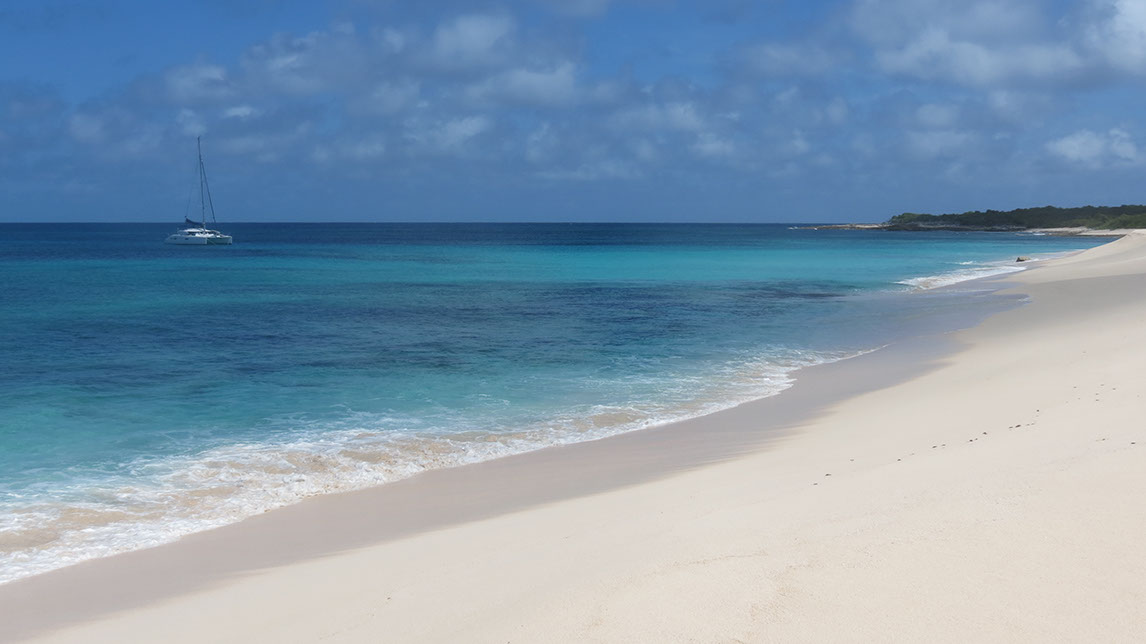 Srub island beach
Trip to Sandy Island and Crocus Bay
All trips includes free drinks, snorkelling equipment and 2 stand up paddles - Lunch possible (extra 10 € per person) - 15 € per person not included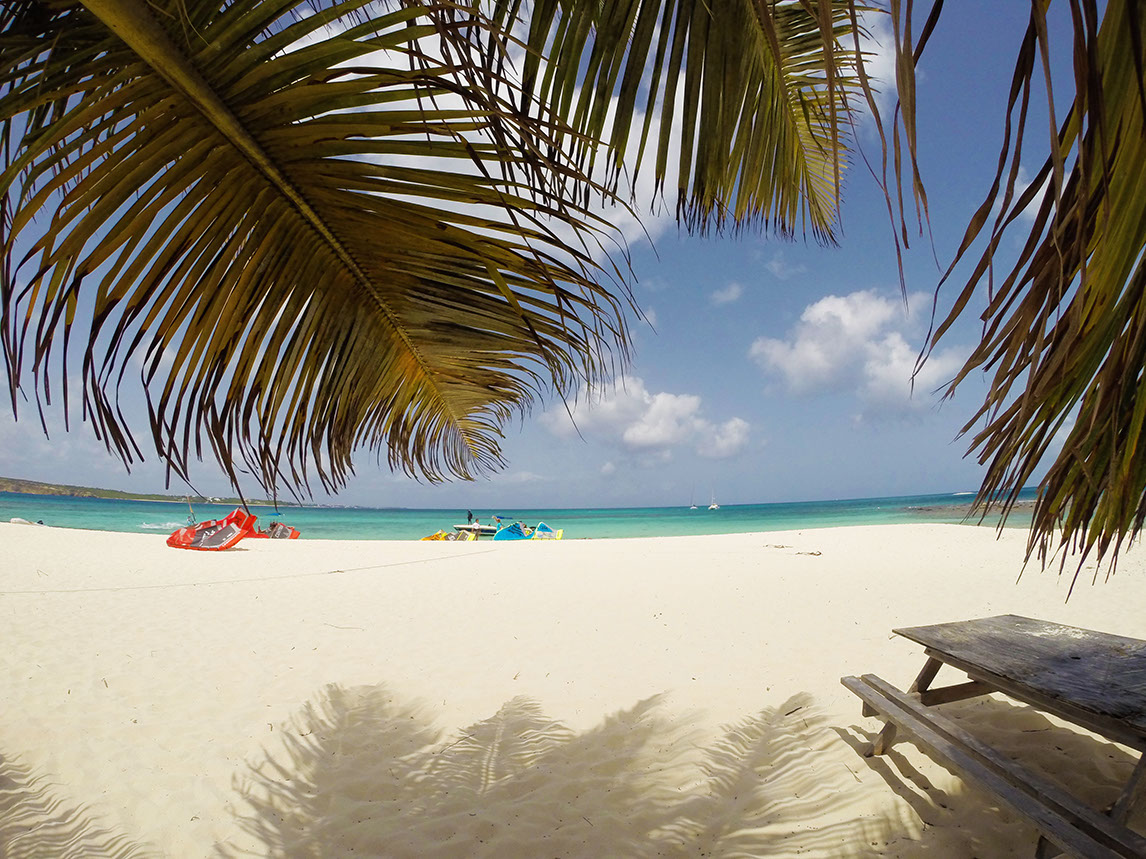 Sandy Island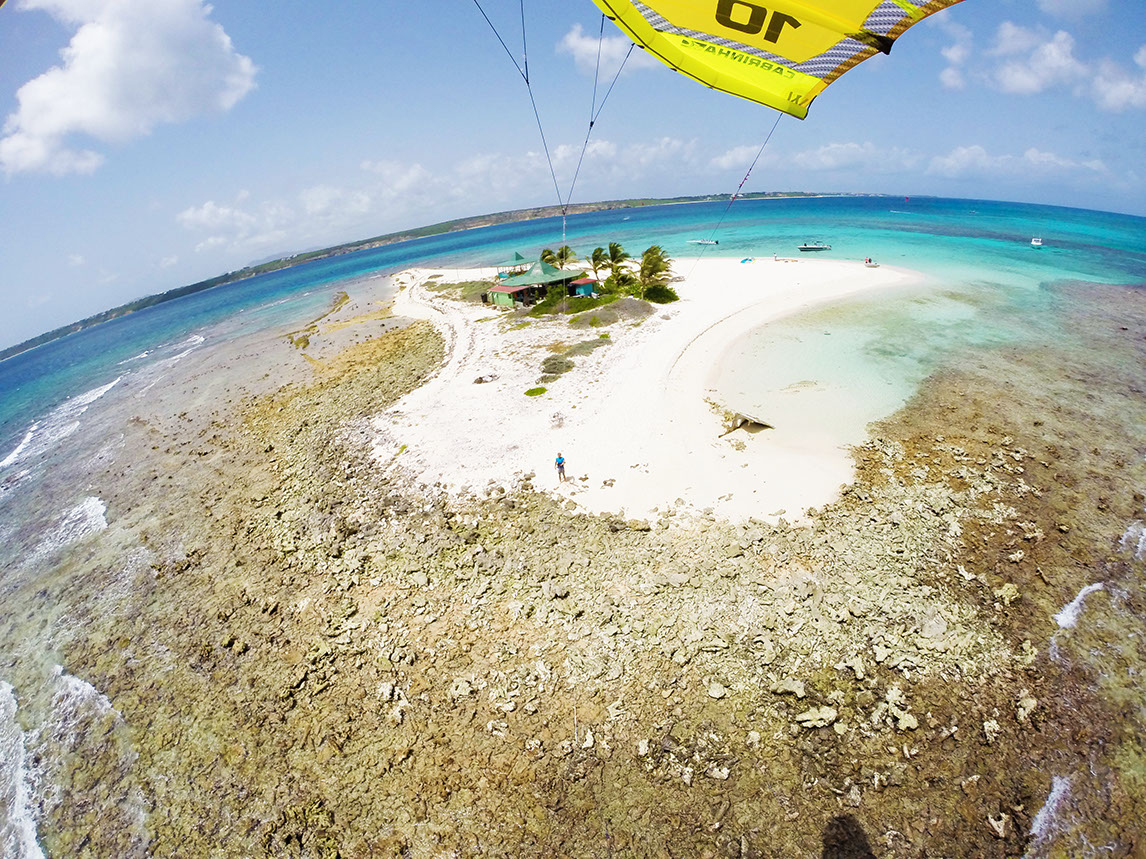 Crocus Bay
Crocus Bay
Trip to Prickly Pear
A 2 hours sailing to Prickly pear
All trips includes free drinks, snacks, snorkelling equipment and 2 stand up paddles - Lunch possible (extra 10 € per person) - 15 € per person not included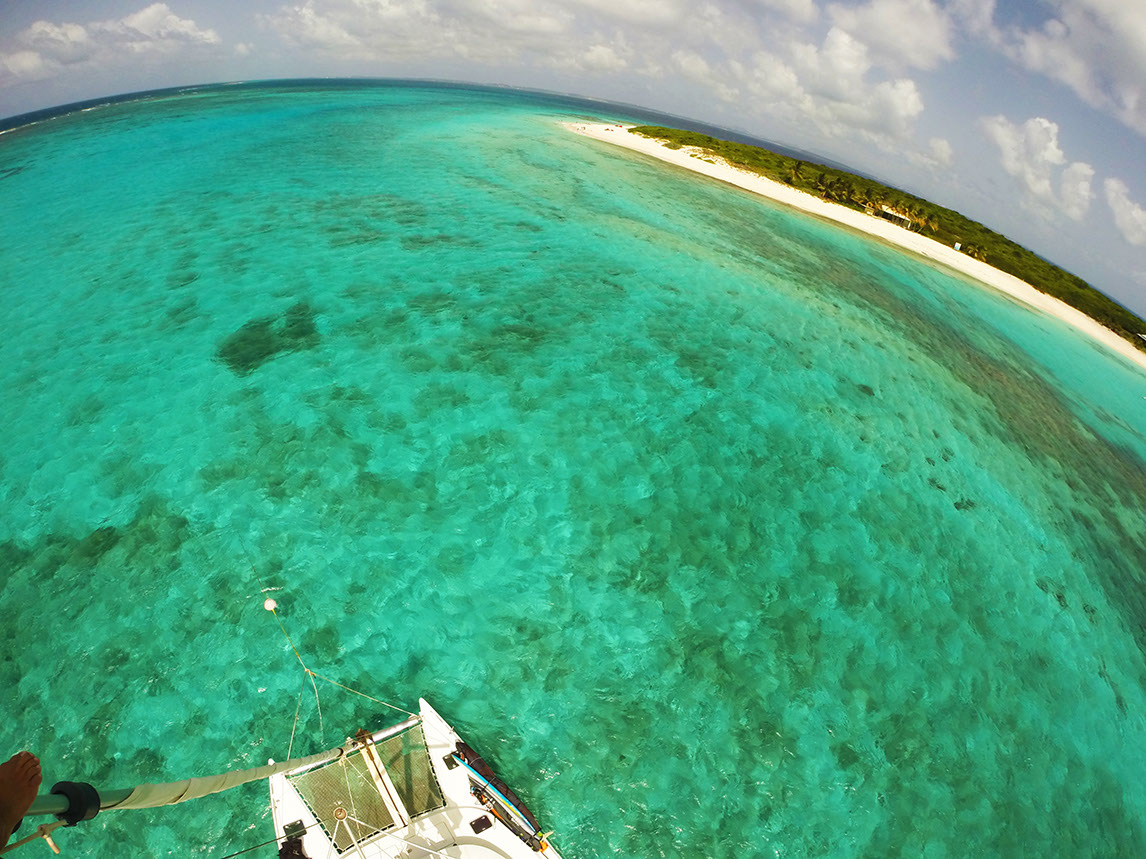 2 days in St Barth
Sail to St Barth (2,5 hours) and spend a night aboard the catamaran (up to 8 persons). You will discover Fourche island, Colombier (snorkeling), ST Jean (best stand up paddle spot), and shopping in St Jean.
Price: 1422 € More information about 2 days in St BArth'
More information about the boat
​Sailing Area
The triangle St. Martin, Anguilla and St. Barts is perfect for short sailing. Longest navigation will be in ST Martin and St. Barts (3:30) with a possible stop on Fourche island making the cruise available to families. The majority of kitesurf spots are on Anguilla . St Barthelemy is reserved for exploring more of the island (St Jean). Orient Bay St Martin, will be a step on the road for kiting and windsurfing.
Anguilla: The island of Anguilla has the third best beach in the world (Shoal Bay) for the smoothness and whiteness of its sand. You will be dazzled by its deserted beaches and turquoise waters.
Cove bay: a sandy beach 1.5 km, facing east with a side-shore wind, perfect for intermediates who want a secure site. On the beach it is possible to eat at "Smokeys" small local restaurant (open for lunch and dinner).
Sandy Island: a small island of sand and coconut trees lost to leeward of Anguilla, THE magical spot (20 minutes nav 'Road Town). Await you: a small lagoon with plain water (offshore wind), a small spot of wind and wave a huge playground around. A restaurant, open for lunch. Perfect for snorkeling, stand up paddle or idleness.
Meads Bay: beautiful beach of white sand west side (perfect for north wind). This is the beach or you can recovers after a downwind Sandy Island. We can also enjoy a cocktail at Viceroy luxury hotel.
Prickly pear: another island located off the coast of Anguilla (a 3 miles). Protected lagoon and small wave spot. Snorkelling magic. Open for lunch there a beach restaurant.
Road bay: small local village with its harbor. Protected anchorage. The best "Ribs" to "Pumphouse" local bar with live music. Anguilla harbors of reggae artists, such Bankie Banks, a former comrade of Bob Marley (possibility to visit the bar Rendezvous bay, near Cove Bay).
Scrub Island: small island forming the northern tip of Anguilla, Scrub is part of the natural reserve of Anguilla. A nice trek can eternal organized to discover the fauna and flora (spawning turtles), the former airport and a magical spot of kite track. Scrub is 1.5 to 2 h of other spots and therefore is not routinely offered.
Tintamare: a jewel of the Natural Reserve of St Martin. Tintamare is probably one of the most beautiful corners of the anchor. You can swim with sea turtles and winter you'll meet dolphins and whales. Beautiful sea and exceptional trekking funds to travel to the northern tip of the clay cliffs and natural jacuzzi. No restoration.
Orient bay: The Kite spot of Saint Martin. 1.5 km long bay with all possible activities.
Pinel: beautiful fountain that will delight the family, snorkelling, hiking, iguanas. Two options allow you to taste the local fish.
Green Cay: the islet Caye Verte offers a breathtaking view of St. Barts. The Lagoon Caye Verte is THE spot for kite. Its coral reef offers an excellent playground. Anchorage possible opposite.
Islet Fouchue: on the road to St Barts, Fourche island is part of the Natural Reserve of St Barts and therefore is a must. Very nice seabed. No restaurants
St Barthelemy Gustavia: Shopping in the capital (brands and fashion jewelry / jewelry). Colombier anchorage in the Nature Reserve, beautiful hikes. St John: Surfing, SUP and windsurfing.
The Skipper
The skipper is proficient and experienced sailor.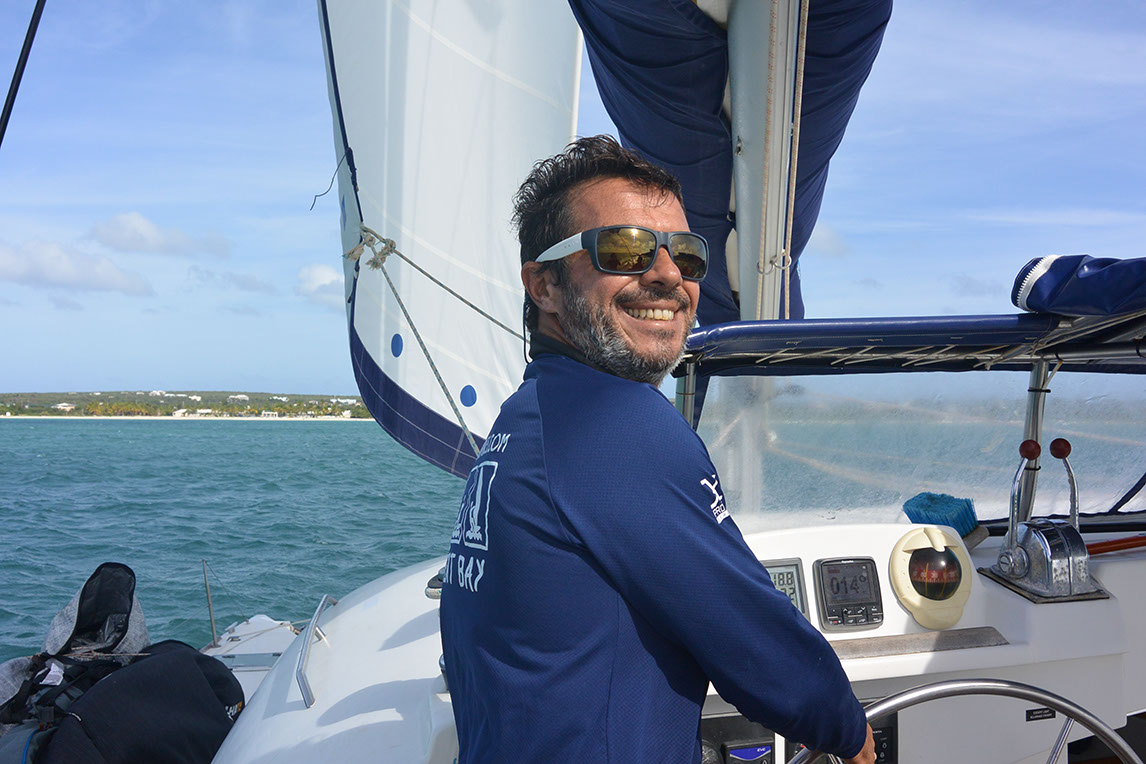 Departure dates
On request. Please contact us
3 days cruise
It is possible to embark abaord the lagoon for 3 days cruise in direction of Anguilla to discover the little paradise this one and its near islands offer.
7 days cruise
7 days program:
Day 1: Boarding in Orient bay or Cul-de sac Provisionning on the road. (taxi suplement) - 7 pm: briefing and Captain cocktail
Day 2: After a 1:30 minute crossing, arrival on Cove Bay (Anguilla). A long deserted beach oriented side-shore, perfect for to upgrade. Possible meal at "Smokeys" in Cove Bay.
Day 3: Navigation to Sandy Island (desert island). Lunch on the island. Moorings at Road bay Meals possibleat Pumphouse (live music).
Day 4: Down on Prickly pear. Meal possible on Prickly. Back to St Martin- Anchorage to Grand Case
Day 5: Crossing on Fourche island
Day 6: St Barth discovery and return on Tintamare. Mooring in Tintamare
Day 7: End of the cruise at Orient bay (noon).
Price can be divided by the number of people (8 people maximum).
included:
privatization of the boat
Skipper (and kiter)
1 stand up paddle
snorkelling gear
15 cc dinghy
linens and towels
kite assistance
Not included:
Gasoline ($200 about)
water (about 15 euros per week)
cleaning (70 euros for 2-3 days; 100 euors for 7 days)
provisionning , drinks
lessons and kite gear
clearance taxes in Anguilla and st barth
MArine park taxes
Options:
kite gear
windsurf gear
surf gear
2 days trip to Anguilla
Day 1: Boarding inOrient bay or Cul-de-Sac (9:00). After a 1:30 cruising, you arrive at Cove Bay, large bay with a deserted side-shore wind, perfect spot to start your cruise. Meals possible at Smokey (not included).
Day 2: Navigation to Sandy Island (1h). Snorkelling. 5 pm, return to Orient bay