#orient bay
#wind adventures
All our instructors are certified and know how important your vacations are. We will answer all your questions and recommend you the best adresses in St Martin.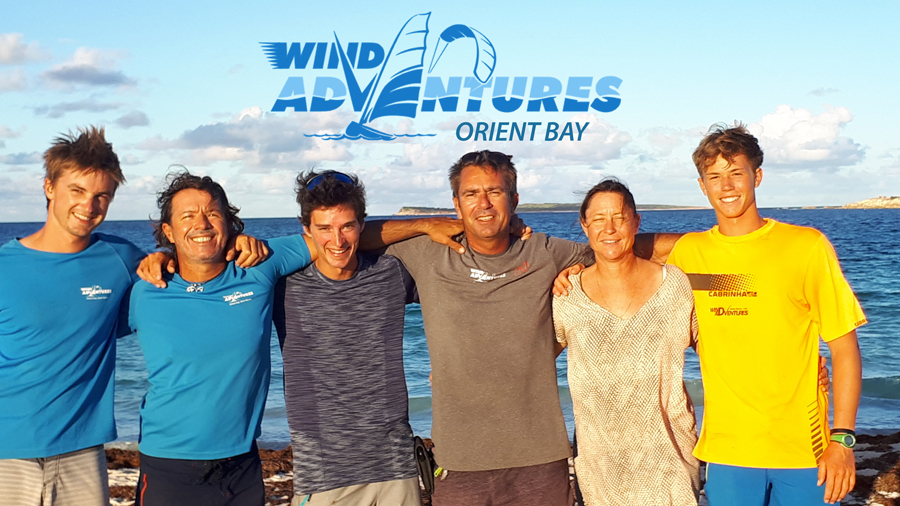 Wind adventures Team (Léo, Fabio, Eliott, Manu, Cecile and Theo.)
Leo
Leo is from St Maxime, France, which is one of the most trendy place when it comes to sailing.
As it turns out, Léo has choosen Saint Martin to enjoy the trade winds and warm waters, so that he can teach windsurf, hobie cat as well as sailing boats all year round.
With a solid teaching skill, Léois able to teach a 8 year old how to tack on a boat as well as teaching watersart to the most passionated windsurfer.
Holder of a proffessional sailing instructor french diploma, Léo knows his way to make you progress so that at the end of the day, more people can master the sailing experience.
He acknowledges the marine park and where to spot the lovely turtles, and always keeps a smile on his face…
Ludo Brossard "Papi brossard"
Ludo is our kitesurf instructor from northern France, Normandie.
Very experienced, Ludo was one of the first worlwide to succeed a Kiteboard proffessional diploma, and knows the Orient Bay better than most locals do.
Pretty stylished on the water, Ludo has a efficient teaching result which makes the happiness of Kiteboard rookies braging about their I.K.O. certification card…
Excellent wakeboarder, Ludo ride it all as he used to be sponsored by the leading windsurf brand, which provides him a great versatile teaching skill; as he knows where you're from…
Eliott
Our kite instructor
Jéremie "Jérem"
Jéremy is from southern France, Montpellier where windsports are also popular. He is both windsurf and kitesurf instructor. His calm spirit of mind and years of experience make him well-qualified to give you the best advices during your lessons !
Julien "Juju"
Julien is from Guadeloupe, experienced windsurf since his childhood, gives windsurf lessons for about 10 years. He is used to navigate in Saint-Martin for 6 years that makes him having a very good knowledge of the spot. His well qualified to initiation as well as perfectionning as he competed with all sailing boats. As everyone here, he always keeps the smile and especially likes to joke !
Arthur "Jean-feuille"
Arthur is from Calvados in northern France, he experienced windsports for decades. He is well-qualified to give both windsurf and kitesurf lessons as it has been 10 years that he is windsurf instructor and 8 years kitesurf instructor. His joy to live makes him joking all the time and will make you laugh for sure !
Emmanuel "Manu"
Manue is the alpha and the omega of the station.
From northern France, he's travelled worldwide feeding his wind passion, to end up building his own station in 1997 in Saint Martin.
Kitesurf and sailing instructor, Manu –as in Emmanuel- is the wise elder and can see a gale coming in from far…
Fabio "My Captain"
Fabio is our skipper during the cruises and day trips. He is very well qualified to ride our Lagoon 38 ft catamaran as he has decades of navigating in the French Indies. Thanks to his good knowledge of the area, he will make your holidays amazing and particularly interesting. He is one of the best captain you can have in Saint-Martin !
Cécile "Cecilia"
Cecile will welcome you, take care of you during your stay. She will deals with all your accomodations bookings, transfert, car rental and special requirements. Cecile is also a windsurfing specialist and sport catamaran champion.
Céline
Céline is our new sales and marketing intern coming from center France. She will friendly welcome you at the club !