Catamaran trip to Tintamare, Creole rock, Pinel Island
#catamaran trip
#tintamare island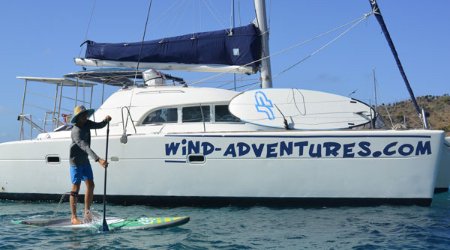 Sailing excursion to Tintamare island, Creole Rock and Pinel island.
snorkelling on the reef
swim with sea turtles
relax on the beach
discover the island secrets (beaches, cliffs, marine life)
in winter meet the dolphins and whales
fishing outside the Marine Park possible
stand up paddle
Included:
snorkeling equipment
2 stand up paddle
fishing rod
drinks (soft drinks, beers, rhum punch)
snack
and of course our friendly captain!
Not included:
lunch: you can bring your own (the boat has a kitchen too), or the captain can take you to the Lolo's BBQ in Grand-case, or enjoy the lunch on Pinal island on one of the restaurants, Karibuni or Yellow beach.
We can add a 10 € extra per person for lunch (sandwich, cake)
You will embark at 9:00 am from Orient beach.
After a 25 minutes sail to Tintamare, you will sail along the cliffs. We will anchor on the south beach to snorkel and swim with sea turtles. You can walk on the island to reach the east beach, facing St Barth'.
Then, we will head for Creole rock (a 25 minutes sailing), best knorkelling. Fishing can be possible.
We will then sail to Pinel island, perfect to relax, sip a cocktail in the water, meet the iguanas.
We will be back at 5 pm
3 hours trip: during the 3 hours, trip, we won't have enopugh to go to Creole rock. The 4 hours will be possible.
Tintamare Photo Gallery
Catamaran Photo gallery
1 2 euros tax per person will be added for the Marine PArk